MALAYSIAN DWARF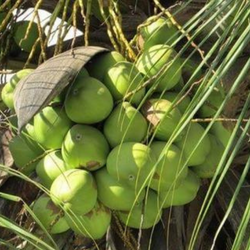 If you are tired of finding people to climb a coconut tree to get the harvest, there are Malaysian dwarf coconut tree varieties that grow much shorter than the normal tall coconut trees. The Malaysian coconut tree is one of the well-known as well as the effective kind that suits the climate of Kerala. Its seed is available in all most all nurseries across the state. Let's find out the benefits, planting methods, duration to bear fruit, and things to keep in mind before planting the seeds.
malayan dwarf coconut tree in kerala
One of man's most useful plants (Fig. 1). The heavy crown of long flowing fronds and gently curved trunks of Coconut Palm lend a tropical effect to any landscape setting in which they can grow. A beautiful street tree, Coconut Palm is also ideal as a background tree, framing tree, or as a striking freestanding specimen. Coconut Palms located along streets, walkways or near patios require pruning to remove the flowers or developing fruit so it doesn't fall and cause injury or property damage.
dwarf coconut tree for sale near me
metro garden provided all over kerala and india servicess.any person can oder dwarf coconut tree through metro nursery garden.
Visit Our Website to Shop Plants / Disease Products.
https://metrogarden.in/product-details/ce5a9a45-42ef-4193-b75d-b08f9137dd3e